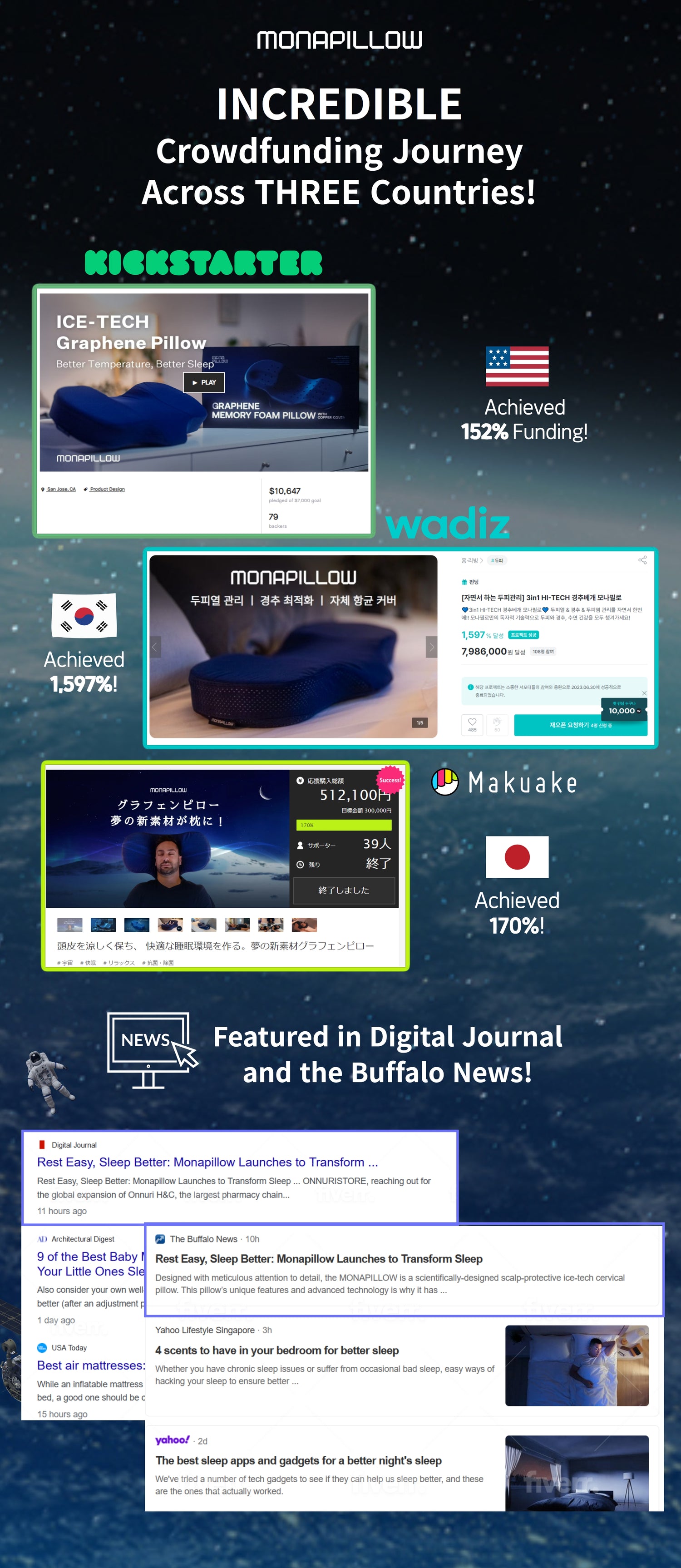 BRINGING MAGIC TO SLEEP
MONAPILLOW makes 'THE' perfect environment for your best sleep and many of our supportors already believe in our product! We're so thrilled to share that our MONAPILLOW project has been a huge success and has offcially closed! We've exceeded funding goals by achieving 152% funding on Kickstarter, 170% on the Japanese crowdfunding platform 'Makuake', and an 1597% on the Korean platform 'Wadiz' in three countries.
BETTER SLEEP, BETTER PERFORMANCE
Starting witht the experience of extreme hardworking consultant, he couldn't resist to make his OWN pillow for the best quality sleep.
After 500+ trials and errors, he finally made MONAPILLOW, a revolutionary ergonomic design that supports neck and head with precision. Our product developer crafted this pillow to alleviate the exact issues eh faces, ensuring a perfect custom-fit solution for neck pain relief.
But MONAPILLOW's innovation didn't stop there. He also recognized that excessive heat on his head were another obstacle to a peaceful sleep. To combat this, he infused Graphene into the memory foam.
Revolutioze Sleep with Triplex Technology
Graphene-Infused Memory Foam

We couldn't give up the firmness of memory foam, but we also couldn't care about the temperature. What did we do then? Infuse GRAPHENE to memory foam!

Graphene, even used in aerospace industry, it is known for its heat dissipation.

Egonomic Design & Supportive Filler

MONAPILLOW utilizes a high-density memory foam with a density of 60D to maintain proper alignment of the head and neck during sleep. High-density memory foam ensures long-lasting resilience and maintains its shape allowing for consistent support throughout the night.

Antibacterial Copper-infused Pillowcase

Our pillow cover is infused with 12% of copper, making it hypoallergenic and antibacterial. Antimicrobial properties of copper helps fight bacteria and virus, keeping your sleep hygienic.